A January morning walk up Zion narrows
The walk starts just after dawn on the mile-long footpath from the parking lot. The end of the path starts the walk in the Virgin river. Hey, where is everybody? There are lots of people here on an August afternoon.
In some places you have to walk in the river. The water is cold so you'll need waders or a dry suit, and long johns and warm socks. The rocks on the river bottom are slippery so you'd better have poles too.
In some places you can walk on the river bank.
In some places you have to cross the river to get to a bank on the other side. Walking across the strong current on the slippery rocks can be tricky.
Pretty soon we come to a long stretch of walking in the river with a spot where the water is up to my chest. Remember to stay alert for ice falling off the canyon walls.
A short distance up the river we find Mystery falls.
Lots of ice hanging from the walls.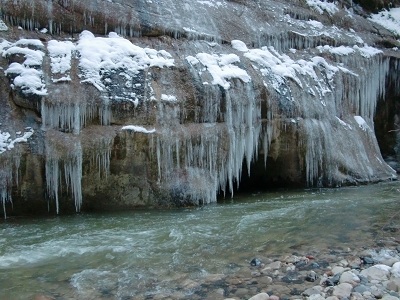 The sun shining on canyon wall.
The icicles of Damocles.
The canyon is getting narrower and darker.
Orderville creek flows into the Virgin river. This is about a mile up the river from the end of the footpath and a good place to turn around. I've gone further but this makes a 3.5 to 4 hour round trip and plenty tiring for an old man.
The view up Orderville creek.
Looking up at the intersection of two slot canyons makes a "Y" in the sky.
The morning sun rising above the canyon wall. Here it lines up with the canyon so light reaches the bottom.
The sun lighting up the canyon floor.
Removing my pack (contains dry clothes and stuff for repairing leaks in my waders), jacket and poles to relax in the sun.
The sun lighting up the canyon wall.
Let's go back, take a hot shower and eat an enormous lunch.