Parameter Alias Editor
The Parameter Alias Editor is opened through the Tools menu in the Main Display window with Tools->Parameters->Aliases menu and allows for the association between "canonical" parameter names used by McIDAS-V for physical quantities, such as TEMP for temperature, and parameter names used in particular data sets for the same quantity, such as for example "jan_mean_temp."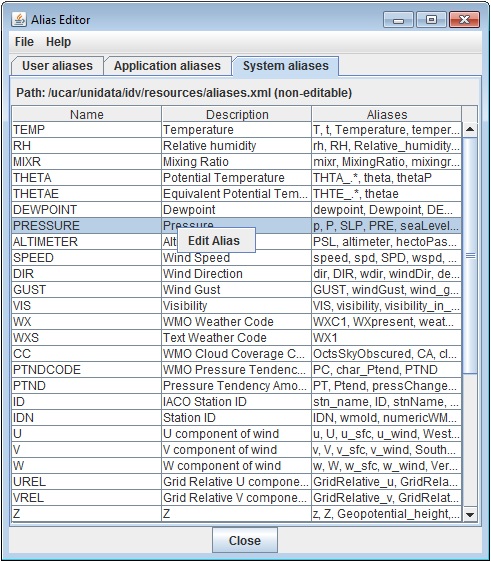 Different data sets often have different names for the same physical quantity, such as the quantities for temperature or easterly wind speed component. McIDAS-V can recognize any particular variable name as representing a standard quantity with the use of a parameter alias. The Alias Editor associates any particular variable name that may appear in a data set (right column) with a canonical or McIDAS-V name or alias (left column). These columns are sorted in alphabetical order by default, and this order can be reversed by clicking on the name of the columns (e.g. 'User aliases').
The Alias Editor has a number of tabs that display the user editable aliases and the non-editable system aliases. To modify an alias in the Application aliases or the System aliases tabs, right-click on a row and select Edit Alias. This will copy the alias to the User aliases tab, where it can be modified by the user. While this alias will still exist in the Application aliases or System aliases tab, the alias in the User aliases tab will be used first by McIDAS-V. User aliases can be modified in the same way, by right-clicking on a row and selecting Edit Entry. User aliases can be deleted by right-clicking on a row and selecting Delete Entry.
When attempting to create a new alias or edit an existing one, a Data Alias dialog is shown:
Name - Sets the name of the alias. This is what all of the parameter names in the bottom part of this Data Alias window will be mapped to. This name can then be mapped to a parameter default.
Label - Sets a description of the alias.
Enter aliases one per line - Shows a listing of all of the parameter names being mapped to the alias. Only one parameter name should be entered per line.
Menus
The File menu has these unique items:
New Alias - Opens a Data Alias dialog, where a new alias can be created.
Export to Plugin - Opens the Plugin Creator window with all of the aliases loaded in.
Export Selected to Plugin - Opens the Plugin Creator window with the selected aliases loaded in.
Close - Closes the Data Alias dialog.