Using the Globe Display
This section describes how to make a globe display. The illustration below shows a McIDAS-V Globe Display of GFS numerical weather prediction model output of mean sea level pressure (as color-shaded image and contour lines) and 50 m/s wind speed isosurfaces showing the jet streams.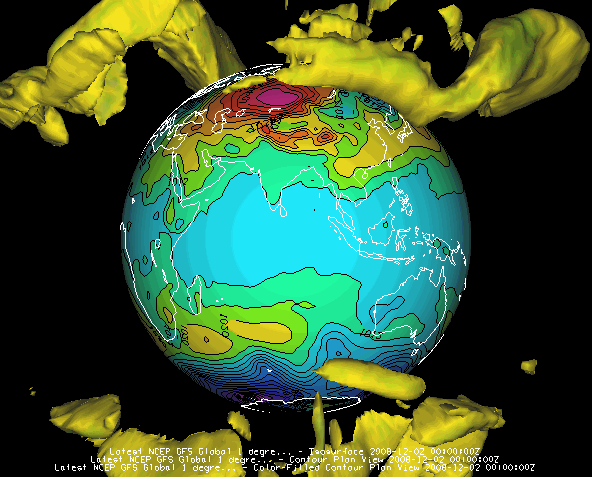 In the Globe Display display of McIDAS-V, the displays and maps are projected onto a spherical globe. The globe can be rotated by hand or automatically, along with the usual zooming and time animation of displays on the globe.
To create a Globe View window, use the File->New Display Tab->Globe Display->One Panel menu. This section describes how to make plots of global satellite imagery on the Globe display. The set of steps include:
After creating a globe display in McIDAS-V, open the Data Sources tab of the Data Explorer and select the Satellite->Imagery chooser.
Connect to one of the servers listed using the RTIMAGES dataset.
From the Image Data Type selector, choose the GE-IR - GOES-East Hemispheric IR Image Type.
Select the three most recent images.
Click the button to load the data source.
Once the data source has been selected, you can create the display by doing the following in the Field Selector tab of the Data Explorer:
Select the "GE-IR - GOES-East Hemispheric IR" data source in the Data Sources panel.
Select the "10.7 um IR Surface/Cloud-top Temp->Brightness" field in the Fields panel.
Select "Image Display" in the Displays panel.
Click the button to create the display.
You can move the display using the standard McIDAS-V zooming, panning and rotating functions. For this exercise try the following:
Use the Viewpoint toolbar or the View->Viewpoint menu to rotate to the West view.
Start the image animation using the Time Animation Widget.
Utilize the Main Display window's View->Viewpoint->Auto-Rotate View menu to rotate the globe. Check this on to rotate the globe along the vertical axis.
Any suitable data with navigation information (latitude, longitude, and altitude) that McIDAS-V can handle can be plotted on the globe display.