Monthly News Summary – April 2012
SSEC/CIMSS Researchers Honored at ITSC-18 in Toulouse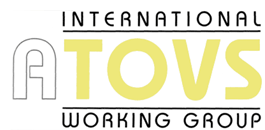 SSEC's Allen Huang co-chaired the International TOVS Study Conference (ITSC-18) held on 21-27 March 2012 in Toulouse, France. Organizational support was supplied by Marie Vasys and Bill Bellon. The Conference covered a wide range of topics concerning atmospheric sounding, its applications and related issues.
The International TOVS Working Group (ITWG) is a sub-group of the Radiation Commission of the International Association of Meteorology and Atmospheric Sciences (IAMAS). ITWG continues to organize International TOVS Study Conferences (ITSCs), which have met every 18-24 months since 1983.
SSEC/CIMSS researchers Graeme Martin and Dave Tobin both received "Best Poster" awards at the International TOVS Study Conference (ITSC-18) in Toulouse, France:
Graeme Martin for "The CrIS SDR Algorithm in the Community Satellite Processing Package."

Dave Tobin for "New Results from the Cross-track Infrared Sounder (CrIS) on NPP."
Other SSEC presenters and participants included Hank Revercomb, Elisabeth Weisz, Dave Tobin, Geoff Cureton, Scott Mindock, Jun Li, Liam Gumley, Kathleen Strabala, Bob Knuteson, Eva Borbas, Ray Garcia, and Bill Smith.
Operational and research users of TIROS Operational Vertical Sounder (TOVS) data from the NOAA series of polar orbiting satellites and other atmospheric sounding data exchange information on methods for extracting information from these data on atmospheric temperature and moisture fields and on the impact of these data in numerical weather prediction and in climate studies. They also prepare recommendations to guide the directions of future research and to influence relevant programs of WMO and other agencies (NASA, NESDIS, EUMETSAT).
"Science Friday" Documents the Making of the Blue Marble
"Science Friday," a weekly science talk show broadcast live over public radio stations nationwide as part of National Public Radio's "Talk of the Nation" programming, has featured a mini-documentary on the making of the now-famous "Blue Marble" image of Earth. The NASA-created image was based on data captured by the Suomi-NPP satellite.
Popular Image
According to Flickr, the online photo sharing site, "The western hemisphere Blue Marble 2012
image has rocketed up to over 3.1 million views making it one of the all time most viewed images on the site after only one week."
The "Blue Marble" image of the Earth was taken from the VIIRS instrument aboard NASA's most recently launched Earth-observing satellite – Suomi NPP. NASA renamed the NPP satellite "Suomi NPP" on 24 January 2012 to honor the late Verner E. Suomi of the University of Wisconsin-Madison.
GOES and POES Images of Lower North Fork Fire in Colorado
The "Lower North Fork Fire" began to burn near Aspen Springs, Colorado during the afternoon hours on 26 March 2012, quickly increasing in size to over 4,100 acres. Geostationary Operational Environmental Satellite (GOES-15 and GOES-13) and Polar Operational Environmental Satellite (POES) images of the fire smoke plume and the fire thermal "hot spot" are posted on the CIMSS Satellite Blog.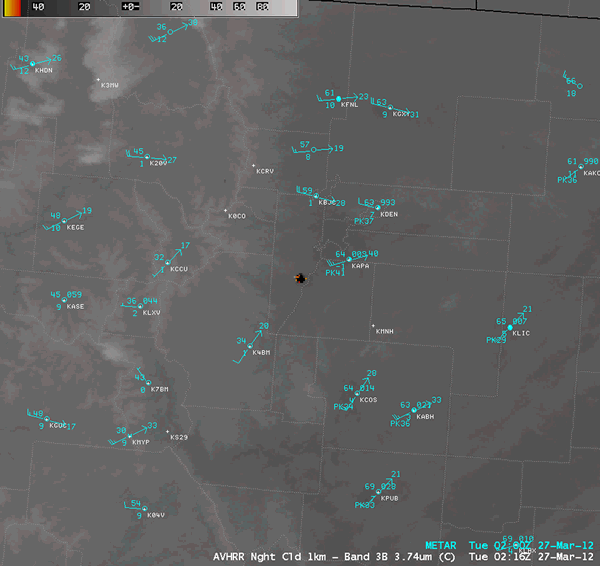 AWIPS image comparison of 4-km resolution GOES-13 3.9 µm and 1-km resolution POES AVHRR 3.7 µm shortwave IR data, showing the thermal "hot spot" (black to red to yellow color enhancement) associated with the Lower North Fork Fire in Colorado.
Sanjay Limaye to Give Talk on the 2012 Transit of Venus
Dr. Sanjay Limaye of SSEC will give a talk concerning the transit of Venus on 04 April 2012 at 7 pm for "Wednesday Night at the Lab" (WN@TL).
The rare planetary event will occur on 05-06 June 2012.
WN@TL is a public science series offered every Wednesday night, 50 times a year, starting at 7 PM in Room 1111 (The Auditorium) Genetics/Biotech Center, 425 Henry Mall on the University of Wisconsin-Madison campus.
CIMSS Severe Weather Nearcasting Model Predicts Southern Missouri Storms
CIMSS runs a prediction model that "near-casts" (out to 9 hours) the potential for the development of severe weather. The model is initialized hourly using retrieved profiles of equivalent potential temperature from the GOES-13 sounder, which are projected forward in time along trajectories and then monitored for vertical destabilization.
The 01 UTC run on 29 February 2012 isolated an area of strong destabilization near Branson, Missouri, at 07 UTC (1:00 AM CST), six hours in advance of the storms that spawned multiple tornadoes. Real-time near-casting products can be viewed online.
6-hour near-cast of equivalent potential temperature lapse rate valid 07 UTC, 29 February 2012. Larger negative values (purple or red) indicated the atmosphere becoming strongly unstable.
Beta Testing of IDEA-I Within IMAPP
A select group of Direct Broadcast users will begin beta testing of an open source, portable version of Infusing Satellite Data into Environmental Applications (IDEA), a satellite based aerosol forecasting, visualization, and data synthesis tool for use by the international air quality forecasting community.
IDEA International (IDEA-I) is being released as part of the International Moderate Resolution Imaging Spectroradiometer (MODIS) Atmospheric Infrared Sounder (AIRS) Processing Package (IMAPP) and its operational follow-on the Community Satellite Processing Package (CSPP).
IMAPP provides freely distributed science production software for MODIS and AIRS science data products. CSPP provides similar capability for the Visible Infrared Imaging Radiometer Suite (VIIRS), Cross-track Infrared Sounder (CrIS) and Advanced Technology Microwave Sounder (ATMS) on the Suomi National Polar-orbiting Partnership (Suomi NPP). IDEA-I supports the Global Earth Observation Systems of Systems (GEOSS) Group on Earth Observations (GEO) Health Societal Benefit Area (SBA) and has been developed within the framework of the GEO Earth Observations in Decision Support Call for Proposals.
First VIIRS Data Imported into AWIPS
Suomi National Polar Partnership (Suomi NPP) Visible Infrared Imager Radiometer Suite (VIIRS) data were acquired, processed and converted into a format that could be displayed in the National Weather Service (NWS) Advanced Weather Interactive Processing System (AWIPS).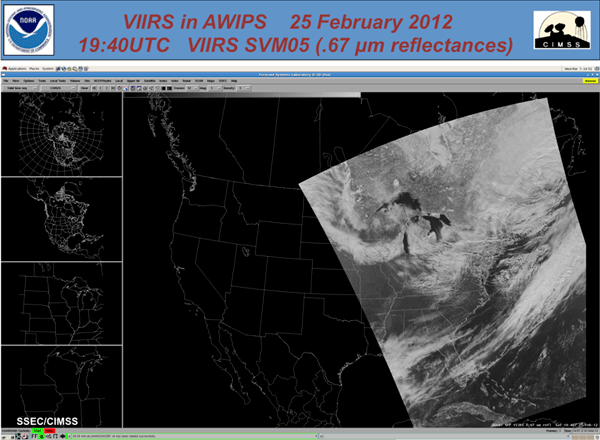 First Suomi NPP VIIRS in AWIPS image, created using a portable tool that transforms VIIRS SDR into an AWIPS compatible format.
The development of a portable tool to perform the transformation from VIIRS Science Data Records (SDR) to an AWIPS compatible format will be delivered to Direct Broadcast (DB) stations in Alaska and allow them to supply timely products to their respective NWS forecast offices. The data is valuable to forecasters because of the high spatial resolution of the data (about 1km from nadir to edge of scan), the high quality of the data and the rapid distribution of the data through DB. Cooperative Institute for Meteorological Satellite Studies (CIMSS) personnel also plan to deliver NPP DB data to the NWS forecast offices that we currently supply with Aqua and Terra DB data.
Satellite Imagery of Heavy Rainfall Event in Hawaii
The CIMSS Satellite Blog was updated with a post featuring Geostationary Operational Environmental Satellite (GOES-15), Polar Operational Environmental Satellite (POES/NOAA-15), Morphed Integrated Microwave Imagery at CIMSS (MIMIC) Total Precipitable Water, and satellite-derived winds products from a heavy rainfall event that impacted much of the northern portion of Hawaii during the 4-6 March 2012 period.
Total rainfall amounts for the storm were as high as 35.97 inches at Hanalei on the island of Kauai, and 15.64 inches at Punaluu Stream on Oahu.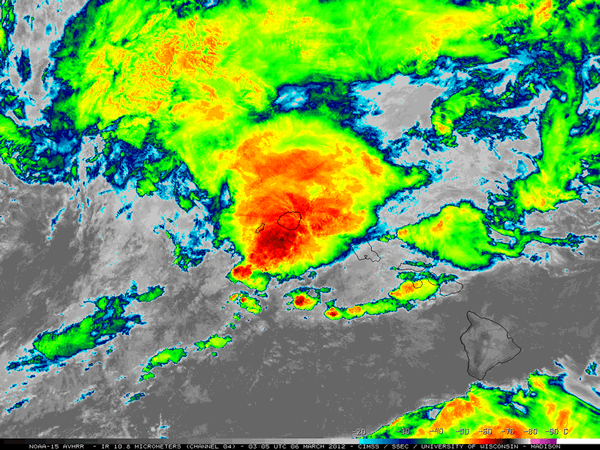 Comparison of a 1-km resolution NOAA-15 AVHRR 10.8 µm IR image with the corresponding 4-km resolution GOES-15 10.7 µm IR image, which demonstrates the advantage of higher spatial resolution for identifying the location of colder cloud top IR brightness temperatures associated with convective overshooting tops.
Short Video on the Evolution of GOES
A short video on the evolution of the Geostationary Operational Environmental Satellite (GOES) was produced by the NOAA NESDIS Visualization Laboratory (NNVL).
Tim Schmit was interviewed as part of the NOAA 'Big Picture' event at annual American Meteorological Society (AMS).
New Group Formed to Study Unusual Weather
Dateline: 01 April 2012
In response to the record-breaking mild winter weather seen in Wisconsin through March, researchers at SSEC have convened a special study group, the Weather Transition Forum (WTF), to investigate this latest climate anomaly.
Mark Hobson, the Public Information Coordinator of SSEC, commented: "We are hoping that this new group will be the go-to organization when people are curious about this incredible unseasonal weather we are having. We are hoping that anyone with questions will simply ask WTF."
Hobson goes on: "WTF is the best response we have when dealing with unusual weather like this. Weather and climate are vast, complicated systems. They are very difficult to predict with any real certainty. Relieving confusion is the primary benefit of WTF. Whether we notice that days are much warmer than usual, or even if we are simply curious about how it all comes together, our best strategy is to ask WTF."
"The old saying is that everyone talks about the weather, but nobody does anything about it," Hobson says. "Well, now we have an answer. And the answer is: WTF."