Monthly News Summary – December 2011
Spectacular Image from VIIRS First Light
The Visible Infrared Imager Radiometer Suite (VIIRS) onboard NASA's newest Earth-observing satellite acquired its first measurements on 21 November 2011.
The National Polar-Orbiting Operations Environmental Satellite System Preparatory Project (NPP) was launched on 28 October 2011 to orbit at an altitude of 512 miles (824 kilometers). The satellite operations team has powered on all of the instruments and the spacecraft is now traveling around Earth at 16,640 miles per hour (eight kilometers per second).
A high-resolution version of the first VIIRS image, taken on 21 November 2011, created by the NASA NPP Team at the Space Science and Engineering Center, UW-Madison, using 3 channels (red, green and blue) of VIIRS data. This image shows the full scene from Hudson Bay to the northern coast of Venezuela.
VIIRS is the largest instrument onboard NPP, weighing in at 556 pounds (252 kilograms). Its data, collected from 22 channels across the electromagnetic spectrum, will be used to observe the Earth's surface, including fires, ice, ocean color, vegetation, clouds, and land and sea surface temperatures.
VIIRS Photo courtesy of Raytheon Space and Airborne Systems
NPP serves as a bridge mission from NASA's Earth Observing System (EOS) of satellites to the next-generation Joint Polar Satellite System (JPSS), a National Oceanic and Atmospheric Administration (NOAA) program that will also collect weather and climate data. It extends and improves upon a series of measurements initiated by the Advanced Very High Resolution Radiometer (AVHRR) and the Moderate Resolution Imaging Spectroradiometer (MODIS).
During NPP's five-year life, the mission will extend more than 30 key long-term datasets that include measurements of the atmosphere, land and oceans. NASA has been tracking many of these properties for decades. NPP will continue measurements of land surface vegetation, sea surface temperature, and atmospheric ozone that began more than 25 years ago. Climatologists will use VIIRS data to improve our understanding of global climate change.
Ongoing updates can be found on the CIMSS blog. Both Discover and Wired magazines have articles on the successful placement of the satellite.
UW Communications covered the launch of the satellite on 28 October 2011.
CIMSS Partners with Aldo Leopold Nature Center
The Aldo Leopold Nature Center (ALNC) in Monona recently acquired a NOAA Science On a Sphere (SOS) exhibit in their state of the art new facility. The timing couldn't be more perfect, as the CIMSS EarthNow project was recently launched. EarthNow will provide timely weather and climate connection stories and data visualizations to the SOS Network (over 80 installations around the world).
By having an SOS exhibit nearby, we now have the ability to test stories and visualizations on the suspended 6-foot diameter spherical display.
As part of the new partnership, CIMSS' Patrick Rowley used the SOS experience he gained at Nauticus (a maritime science and industry museum in Norfolk, VA) to conduct an "SOS 101" session for ALNC's education staff and volunteers. Further, Patrick Rowley and Margaret Mooney will be using SOS to discuss recent global climate analyses at WICCI's (Wisconsin Initiative on Climate Change Impacts) upcoming meeting at ALNC on 01 December 2011.
CIMSS and ALNC are also working together to create an SOS lecture series to start in the spring.
Want to learn more? Check out ALNC's Special Exhibit Preview Day on 29 December (12pm-7pm). Along with all kinds of hands-on weather climate programming, Patrick Rowley will be giving Science On a Sphere presentations (and even showing off the SOS snow globe he made) every hour.
Submitted by: CIMSS Outreach
The CIMSS Satellite Blog was updated with posts showing Meteosat-9 InfraRed (IR) and visible images of the development of an unusual tropical cyclone in the Mediterranean Sea on 07-08 November 2011.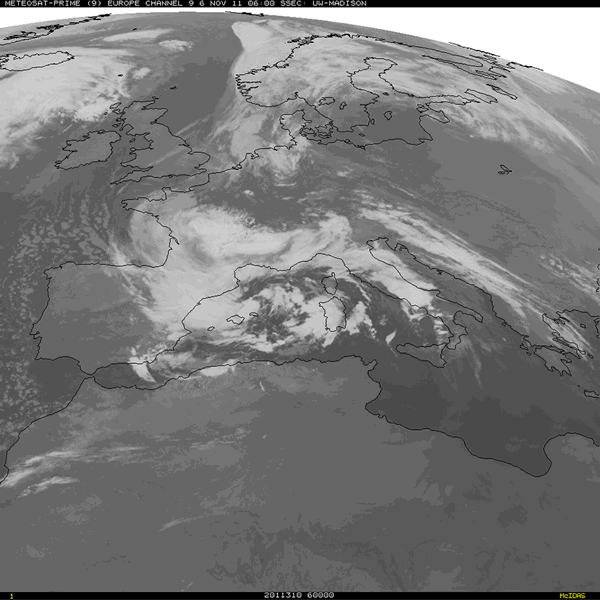 In addition, Geostationary Operational Environmental Satellite (GOES-11), Multifunctional Transport Satellite (MTSAT-1R), Moderate Resolution Imaging Spectroradiometer (MODIS), and Polar Operational Environmental Satellite (POES) IR, water vapor, and visible imagery of one of the strongest extratropical cyclones on record to impact the Bering Sea and Western Alaska was captured on 08-09 November 2011.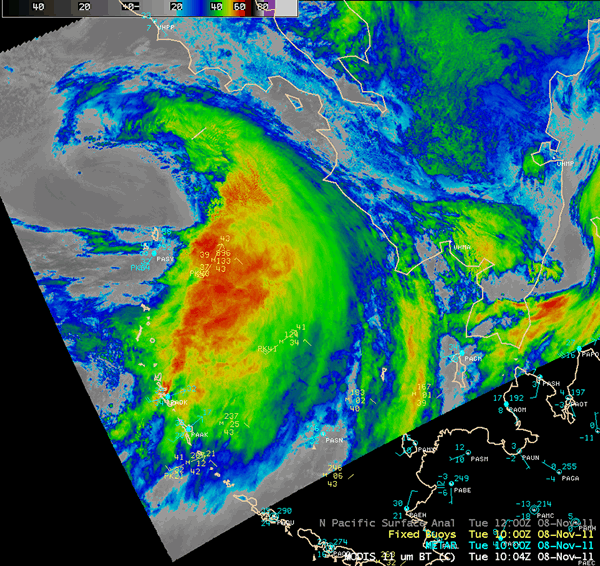 MODIS 11.0 µm InfraRed image at 10:04 UTC plus surface and fixed buoy reports, with and without an overlay of the surface pressure and surface frontal analysis at 12:00 UTC as an intensifying extratropical cyclone was beginning to move across the Bering Sea on November 08, 2011.
"Mecca of Satellite Meteorology" Makes WSJ Front Page
"Using cutting-edge technology, UW leads the way in weather forecasting," by Ron Seely was featured in the Sunday, 27 November 2011, issue of the Wisconsin State Journal.
The MG&E solar panel installed on the roof of AOSS this past June produced 155 kWh electricity in October, offsetting 236 lbs CO2.