Three accomplished students awarded Suomi Scholarship
Three high school seniors, who hail from Wisconsin to as far as Oregon State, were awarded the UW–Madison Cooperative Institute for Meteorological Satellite Studies Verner E. Suomi Scholarship for the 2020-2021 academic year.
"We are very excited to award scholarships to these promising future scientists who each share Professor Suomi's vision for applying physics and engineering principles to solve the environmental and climate challenges of today and tomorrow," said CIMSS Director Tristan L'Ecuyer.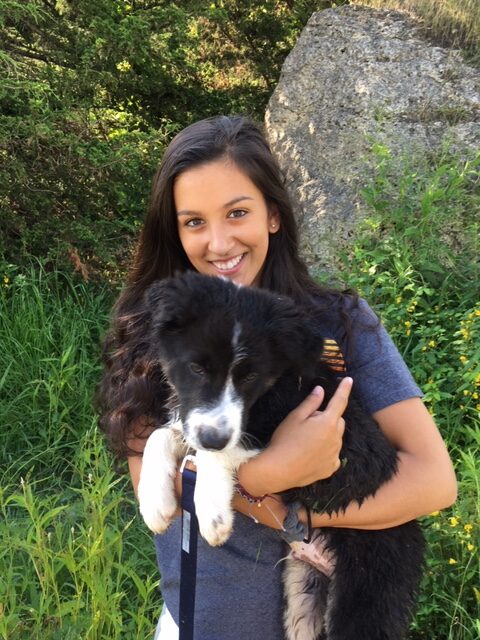 Hansi Bartle
From Science Olympiad to advanced placement courses, Hansi Bartle of Brooklyn, Wisconsin, invites challenges rather than shying away from them, an attitude that she will bring to her studies at the University of Wisconsin–Madison College of Engineering this fall. Bartle says that she discovered her love for aeronautics while participating in a Science Olympiad event that required teams to build and design a model plane that could fly long distances. She would like to extend her interest in aeronautics to "developing a cheaper and environmentally friendly way of utilizing aircrafts."
Saksen Hathaway
Saksen Hathaway, of Portland, Oregon, notes that her interest in environmental science was sparked in fifth grade when she participated in a water quality experiment that involved pH testing of ponds and streams near her home. That interest has persisted. A recent high school project involved pH testing of soil from wetlands on her campus. Further extending the experiment, Hathaway discovered another study that had examined soil pH after the eruption of Mt. Saint Helens in Washington State. She was able to compare her locally-gathered data to data that had been collected and analyzed after a significant environmental event. "I cannot wait to build off of what I have learned," she says. Hathaway will study environmental science at the UW–Madison.
Naomi Raicu
A senior who lives in Shorewood, Wisconsin, Naomi Raicu characterizes her passion for physics as a drive to understand the rules of the game, whether in literature or science. She quickly realized that "since physics requires this process of questioning and reflection that I regularly employ in my studies, I simply had to pursue the subject." Raicu's dream is to employ her background in physics, along with a dose of creativity, to work towards solutions to our changing climate, possibly working on developing alternative forms of energy. In addition, she plans on mentoring girls, "especially immigrant girls like myself, to inspire them to pursue careers in STEM." Raicu will enter the University of Wisconsin–Milwaukee this fall.
The $2000 Verner E. Suomi Scholarship is awarded annually to one or more college-bound high school seniors who exhibit outstanding achievement in the physical sciences and who plan to attend a University of Wisconsin System school for their freshman year. As founder of the Space Science and Engineering Center and CIMSS, Professor Suomi is considered one of the most influential meteorologists of the 20th century. His academic interests spanned the fields of engineering to atmospheric science and he was known for his genuine love of teaching.
"This year's scholarship recipients also embody CIMSS' desire to increase diversity in STEM," said L'Ecuyer. "We hope to inspire others from under-represented groups to pursue careers in the environmental sciences or related fields."