First VIIRS Data Imported into AWIPS
Suomi National Polar Partnership (Suomi NPP) Visible Infrared Imager Radiometer Suite (VIIRS) data were acquired, processed and converted into a format that could be displayed in the National Weather Service (NWS) Advanced Weather Interactive Processing System (AWIPS).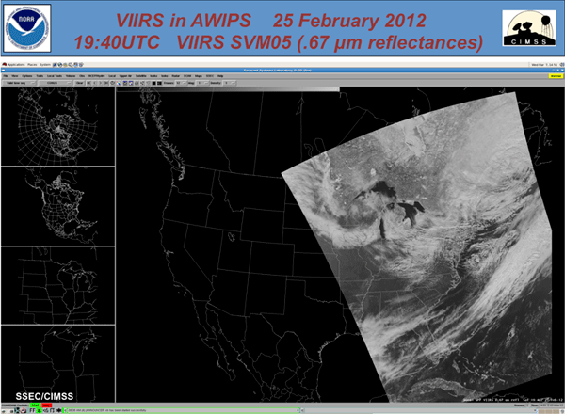 First Suomi NPP VIIRS in AWIPS image, created using a portable tool that transforms VIIRS SDR into an AWIPS compatible format.
The development of a portable tool to perform the transformation from VIIRS Science Data Records (SDR) to an AWIPS compatible format will be delivered to Direct Broadcast (DB) stations in Alaska and allow them to supply timely products to their respective NWS forecast offices. The data is valuable to forecasters because of the high spatial resolution of the data (about 1km from nadir to edge of scan), the high quality of the data and the rapid distribution of the data through DB. Cooperative Institute for Meteorological Satellite Studies (CIMSS) personnel also plan to deliver NPP DB data to the NWS forecast offices that we currently supply with Aqua and Terra DB data.