The air we breathe — Increasing the tempo of air quality measurements
We expect to breathe clean air, but pollutants from fossil fuels, ozone, car exhaust and other sources continue to be a threat to human health and the environment.
Despite improvements in air quality, the U.S. Environmental Protection Agency estimates that in 2021 about 102 million people lived in states with pollution levels that exceeded the National Ambient Air Quality Standards, the standards that set limits on certain pollutants such as ozone and carbon monoxide. People who live in these areas are at a higher risk for heart disease, lung cancer and other respiratory diseases like asthma.
Brad Pierce, director of the University of Wisconsin–Madison Space Science and Engineering Center and professor of atmospheric and oceanic sciences, has spent the better part of his career developing capabilities to use satellite data in air quality modeling systems in order to improve emission inventories and global air quality predictions. In short, to provide more up-to-date information to decision makers in public health, weather forecasting and other areas as they assess air quality risks to the public.
"Better and more frequent emissions data will give us a better handle on ways to improve air quality and public health," says Pierce.
Pierce is a member of the science team on the NASA — Smithsonian Astrophysical Observatory Tropospheric Emissions: Monitoring of Pollution mission. When launched, the TEMPO sensor will deliver hourly, daytime measurements of air pollution over North America from geostationary orbit at a frequency and resolution not possible with current instruments in polar orbit that provide measurements only once per day.
"The global emissions inventory we are using right now is from 2010 and the most recent U.S. inventory from the EPA is from 2017," says Pierce. "This is a pretty big lag in the frequency of our data."
With TEMPO, Pierce expects emissions updates with a latency of one year or less.
The TEMPO mission has the research community excited because it will be the second in a trio of satellites, joining an international push to improve air quality science and forecasting around the world. The first, South Korea's Geostationary Environment Monitoring Spectrometer, reached its orbit in 2020 and is making air quality measurements over Asia. TEMPO is expected to launch in early 2023 while the third, the European Space Agency's Sentinel-4 satellite, is also scheduled for launch in 2023 and will measure pollutants over Europe and North Africa.
Pierce and other science team members expect the TEMPO data will help them focus on identifying pollution-producing problems like exhaust from rush-hour traffic in heavily populated urban areas. Among the pollutants in car exhaust are carbon dioxide that contributes to climate change as well as nitrogen oxides and sulfur dioxide, both of which contribute to the formation of smog.
"We'll have better data on rush hour traffic and energy use," says Pierce. "We'll be able to measure pollutants from these sources as they increase and decrease throughout the day. Right now, we don't have satellite-based information on how they vary."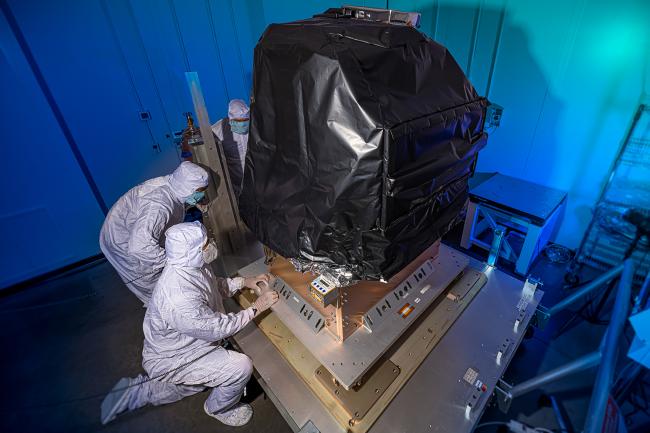 Previous satellite data were only available at one time each day for a given location due to the timing of polar-orbiting satellite orbits. Since GEMS is already in orbit, Pierce and other scientists are taking advantage of its more frequent measurements and developing tools to assimilate them into forecast systems.
"The frequency of the data from geostationary orbit is unprecedented," says Pierce.
This constellation of satellites, along with data from existing instruments in polar orbit, will provide a full suite of instruments measuring atmospheric composition around the world for the first time, he says.
The TEMPO sensor has been tested in a vacuum chamber to be sure it can withstand the extreme space environment and it has been integrated onto the satellite ahead of launch.
Like much of science, TEMPO is related to a mission that preceded it: the Geostationary Coastal and Air Pollution Events Mission or GEO-CAPE that measured atmospheric composition. NASA conducted the design studies for both missions in response to recommendations from the 2007 decadal survey, Earth Science and Applications from Space, says Pierce. Pierce, who was also involved with GEO-CAPE, says that these mission design studies helped to formulate the TEMPO instrument.
A future mission, called Geostationary Extended Observations or GeoXO, is being planned by the National Oceanic and Atmospheric Administration and is expected to provide an operational follow-on to TEMPO. It will include other instruments important to monitoring Earth's atmosphere, such as a hyperspectral infrared sounder that will further realize the original GEO-CAPE mission design.
"It is kind of a nice circle," says Pierce. "The decadal survey recommends GEO-CAPE which forms the foundation for NASA's development of TEMPO, which in turn, provides vital operational information for NOAA's GeoXO."
This process demonstrates the importance of research missions during which scientists can refine and test instruments before using them operationally. It also demonstrates how long it takes — and the patience scientists must exhibit — to perfect an operational instrument.
This work is supported by NASA.